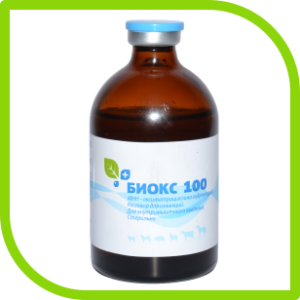 Instructions
of using BIOX 100 and 200 for bacterial infections in animals.
(organization-developer: "BioKhimPharm", Vladimir region, Raduzhny)
I. General information
1. Trade name of the medicinal product: BIOX 100 and 200.
International Nonproprietary Name: oxytetracycline hydrochloride.
Dosage form: solution for injection.
The medicinal preparation in 1000 ml as the active ingredient BIOX 100 and 200 contains 100 g and 200 g of oxytetracycline hydrochloride respectively, and as auxiliary substances 10 g of novocaine, 1 g of ascorbic acid, polyethylene glycol with a molecular weight of 200 to 600 and 1,2- propylene glycol-up to 1000 ml.
In appearance, the preparation is a viscous liquid from light yellow to brown.
The drug is produced in 10, 50 and 100 ml in sterile glass bottles of appropriate capacity, sealed with rubber stoppers and reinforced aluminum caps.
3. Shelf life of the preparation under the conditions of storage – 1 year from the date of manufacture. Do not use BIOX 100 and 200 after the expiry date.
4. The preparation is stored in a dry, protected from light place at a temperature from minus 10 ° С to 10 ° С.
Shelf life of the drug under the conditions of storage – 1 year from the date of production.
5. The drug should be stored in places inaccessible to children.
6. Dispose of unused medicinal product in accordance with legal requirements.
II. Pharmacological properties
7. BIOX 100 and 200 refers to the antibiotics of the tetracycline group. Oxytetracycline hydrochloride inhibits bacterial protein synthesis at the ribosome level. The spectrum of action covers most gram-positive and gram-negative bacteria: streptococci, staphylococci, corynebacteria, clostridia, erysipelotriks, pasterella, salmonella, pseudomonas, hemophilus, actinobacteria, shigella, escherichia, chlamydia, rickettsia, spirochetes and mycoplasma. With intramuscular application, the antibiotic resorbs quickly and reaches maximum concentrations in the tissues 30-50 minutes after administration. The therapeutic effect of antibiotic in the tissues of the body is maintained for 60-72 hours.
8. Oxytetracycline hydrochloride is excreted from the body mainly with urine and bile secret, in lactating animals – with milk.
By the degree of exposure to the body, BIOX 100 and 200 according to GOST 12.1.007 refers to medium-risk substances (hazard class 3).
III. The order of application
9. BIOX 100 and 200 are used by agricultural animals for the treatment and prophylaxis of respiratory diseases, for pasteurellosis, septicemia, anaplasmosis, ungulate rot, for auxiliary therapy in metrites, mastitis, MMA sows syndrome, atrophic rhinitis, erysipelas, wound and postpartum infections, secondary infections in viral diseases and other diseases that are caused by microorganisms sensitive to oxytetracycline hydrochloride.
Contraindication to the use of the drug is the individual sensitivity of animals to antibiotics of the tetracycline group. When allergic reactions occur, use of the drug is stopped and desensitizing therapy is performed.
10. BIOX 100 is administered once intramuscularly in a dose of 1-2 ml per 10 kg of animal weight.
Depending on the chosen therapeutic dose, the therapeutic concentration of the antibiotic is maintained for 24 or 48 hours (prolonged action). Treatment can be carried out according to one of the following schemes:
– The drug is administered slowly intramuscularly once a day at the rate of 0.3-0.8 ml per 10 kg of body weight of the animal. Duration of treatment 3-7 days;
– the drug is administered slowly intramuscularly at the rate of 1.0-2.0 ml per 10 kg of body weight. After 48 hours, the injection is repeated. The course of treatment is 3-4 injections.
Single doses of BIOX 100 recommended for farm animals:
Kind of animal

Single dose, ml / 10 kg body weight

Action for 24 hours

Action for 48 hours

Calves

0,8

2,0

Cattle

0,3-0,5

1,0

Horses

0,5

Not recommended

Piglets

0,8

2,0

Pigs

0,5

1,0

Sheep and lambs

0,8

2,0
BIOX 200 is applied once, injected deeply intramuscularly. If necessary, the drug can be repeated after 72 hours.
Single doses of the preparation BIOX 200, recommended for farm animals:
Kind of animal

Method of administration and dose, ml / 10kg

intramuscularly

Calves

1,0

Cattle

1,0

Horses, cats, dogs

Not recommended

Pigs

1,0

Piglets

1,0*

Sheep and lambs

1,0
* For piglets weighing less than 10 kg, the maximum dose is 20 mg of the active ingredient.
In the treatment of atrophic rhinitis, the drug is administered to piglets on days 3, 12 and 21 in a dose of 1 ml per animal.
Lambs in the treatment of necrobacteriosis and rickettsiosis drug used in a dose of 2 ml per animal.
When the drug is administered in a volume exceeding 20 ml for cattle, pigs – 10 ml, sheep, goats and calves – 5 ml, injections should be carried out in several places.
The maximum volume of a preparation for introduction into one place should not exceed for:
– cattle – 20 ml;
– pigs – 10 ml;
– Sheep – 5 ml.
11. When using the drug in recommended doses of symptoms, there is no overdose.
12. Features of the action during the first use of the drug and when it was withdrawn is not revealed.
13. If you miss one or more doses of the drug, the application should be resumed as soon as possible in the prescribed dosages and schedule of use. Do not enter a double dose to compensate for missed.
14. Adverse events and complications during the use of BIOX 100 and 200 in accordance with the instructions for use are not established.
15. It is not recommended to use BIOX 100 and 200 concurrently with corticosteroids and estrogens. Due to the pronounced decrease in the antibacterial effect of oxytetracycline hydrochloride, the drug should not be used concurrently with antibiotics of the penicillin and cephalosporin series. Do not use dogs, cats, horses, animals with kidney failure.
16. Slaughter of animals for meat, which used the drug, is allowed no earlier than 21 days after the administration of the drug. The meat of animals that have been killed before the expiration of this period is used for feeding carnivores or for the production of meat-and-bone meal. Milk should not be consumed in food for 7 days after drug administration. Such milk can be used for feeding animals after heat treatment.
IV. Personal prevention measures 
17. When working with BIOX 100 and 200, you should follow the general rules of personal hygiene and safety, provided for when working with medications.
18. When working with BIOX 100 and 200 it is forbidden to drink, smoke and eat. After working with the drug, wash your hands with soap and water.
It is prohibited to use empty vials from a medicinal product for household purposes.
19. In case of contact with skin and mucous membranes, rinse with plenty of tap water. People with hypersensitivity to the components of the drug should be in direct contact with the drug. In case of allergic reactions and / or accidental ingestion of the drug into the human body, you should immediately contact a medical institution (with you to have instructions for the use of the drug or a label).