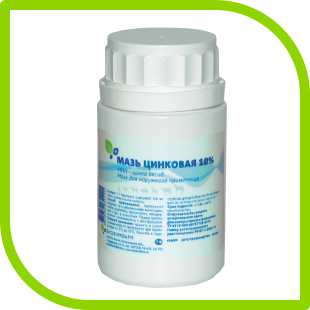 INSTRUCTIONS
of using Zinc ointment 10% for animals. 
(organization-developer:  "BioKhimPharm", Vladimir region, 
city of Raduzhny) 
GENERAL INFORMATION. 
Trade name of the drug – Zinc ointment (Ungentum Zinci) – contains zinc oxide and petroleum jelly.
International non-proprietary name – zinc + petrolatum.
The preparation is a thick, homogeneous mass of white or light yellow color, odorless.
The ointment of 10% concentration in a polymer container is produced at 15, 40, 60, 100, 200, 500 g.
The drug is stored in the manufacturer's closed packaging in a dry, dark place at a temperature of 50C to 250C.
Shelf life under storage conditions is 2 years from the date of manufacture.
Zinc ointment should be stored in places inaccessible to children.
Special precautions for the destruction of an unused product with expired shelf life are not required.
PHARMACOLOGICAL PROPERTIES.
Ointment has an astringent, drying and disinfecting effect. The component included in the preparation reduces exudation and mocclusion, which removes local inflammation and irritation.
Zinc oxide, which is a part of the preparation, has a drying effect and inhibits the growth and vital activity of microorganisms (has a bactericidal action), provides narrowing of skin pores, participates in many metabolic processes in cells (regeneration, repair).
APPLICATION OF THE PREPARATION. 
Zinc ointment is used for skin diseases (wounds, burns, dermatitis, furunculosis, pyoderma, etc.) in animals.
Apply ointment externally 1-2 times a day until recovery, applying it evenly on the affected surface.
The use of ointment does not have side effects and does not cause complications in animals.
Contraindications for the use of the drug is not established.
MEASURES OF PERSONAL PROPHYLAXIS 
When working with zinc ointment, you should observe the general rules of personal hygiene and safety, provided for when working with medicines.
Banks from the Zinc Ointment are forbidden to use for food purposes.